Riverside Smiles Dentistry
High quality affordable dentistry
951-680-0505
6912 Brockton Ave, Riverside CA 92506​
Please enter information and we'll contact you directly.
Ask the doctor or the staff.​
Dr Fadi Akkari DDS

:
​Dr. Akkari is a graduate of the University of Southern California Dental School (USC) where he received extensive training in all aspects of dentistry.
Dr. Akkari is actively involved in continuing education courses to stay up to date with the latest procedures and materials. He enjoys practicing dentistry and seeks perfection with every procedure.

Dr. Akkari is not only a Riverside Dentist but also a Riverside resident. Prior to residing in Riverside, Dr. Akkari resided in Pasadena, California where he attended CSULA for his Bachelors degree and graduated with honors. Dr.Akkari has been practicing dentistry in the Riverside area for the last 8 years. In his free time, he enjoys working out, skiing, and playing the guitar.



Rita (office Manager)

:
Rita has been in the dental field for over 14 years. She is knowledgeable with insurances as well as dental procedures. Rita cares greatly for our patients and embraces them as her own family and friends. She looks out for our patients where she maximizes their benefits and tries to offer the best treatment possible. Rita enjoys building a friendly relationship with our patients to put them at ease and feel right at home in our office.





Angel (Dental assistant)

:
Angel has also been in the dental field for over 12 years. He is very skillful, but most important he is very kind, friendly, and welcoming. With Angel, you will feel that you already have a friend here at our office who is looking out for you and who will try to put a smile on your face every time you are here.



Jazmine (Dental assistant)

:
Jazmine is very enthusiastic and eager to help you in anyway possible, from helping you with paper work to explainging procedures. She is part of our friendly helpful dental family that has your best interest and well being at heart.​​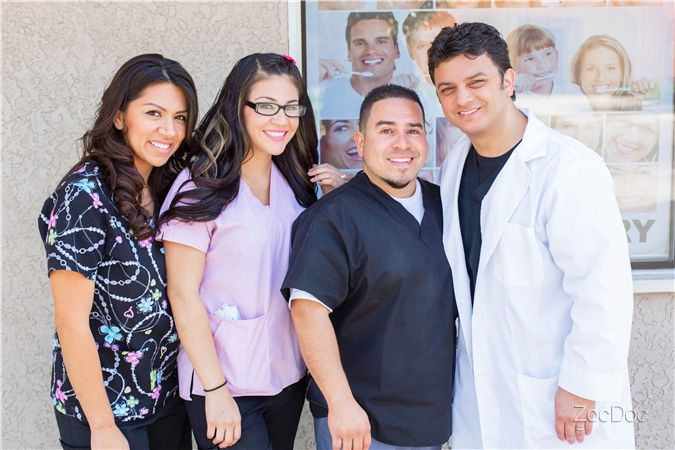 Rita Jazmine Angel Dr. Akkari